30. november 2020
Funding from NNF to researchers from the Department of Biology
Funding
With the aim of promoting fundamental research within the field of bioscience and basic biomedicine, the Novo Nordisk Foundation supports projects seeking understanding of basal mechanisms underlying health and disease in the human organism. This year two researchers from the Department of Biology met the high international standards of NNF and got awarded grants.
---
Professor Olaf Nielsen has received 2.7 million DKK for the project:
Checkpoint activation by RNR protein aggregates
We have identified a protein called Spd1 that mediates the formation of protein aggregates in cells. These aggregates contain a subunit of the enzyme responsible for the synthesis of DNA building blocks. We plan to use genetics, cell biology and biochemistry to study how these aggregates form, what other proteins are contained within them and to figure out what role the concentrations of their components play in the process. Presumably, these aggregates form during perturbations of the DNA replication process, and we will test the idea that their function is to prevent replication when DNA replication becomes mutagenic due to elevated levels of building blocks. Protein aggregation is linked to several human diseases, such as Alzheimer's and Parkinson's disease, and RNR is an important target for cancer treatments. Hence, the results will have important consequences for our understanding of these processes.
---
Associate professor Julien Colombani has received 2.5 million DKK for the project:
Identification of physiological functions of TNF in regulating metabolism and promoting gastrointestinal health
The family of tumor necrosis factors (TNFs) are implicated in diverse processes ranging from cell proliferation, differentiation and apoptosis to innate and adaptive immunity. The pathological functions of TNF have received considerable attention in the last two decades due to its implication in promoting a number of inflammatory pathologies, and anti-TNF strategies are now being used on a regular basis to treat certain autoimmune diseases such as inflammatory bowel disease (IBD). Importantly, case reports from the rheumatology fields show that anti-TNF drugs can cause paradoxical adverse effects on the gastrointestinal (GI) tract resembling some aspects of IBD, suggesting that TNF signaling plays important protective roles in GI health. Nevertheless, and despite the wide use of anti-TNF drugs in the treatment of autoimmune diseases, the physiological/beneficial functions of TNF remain largely unexplored. Due to the genetic amenability of Drosophila and a simplified fly TNF-TNF receptor (TNFR) system, which consist of one TNF ligand, Eiger (Egr), and two TNFRs, Grindelwald (Grnd) and Wengen (Wgn), flies provide an excellent model for studying the physiological functions of TNF and investigating the beneficiary role that TNF signaling play in GI health and systemic insulin signaling. The results obtained in this project will hopefully prove valuable for the design of future anti-TNF strategies.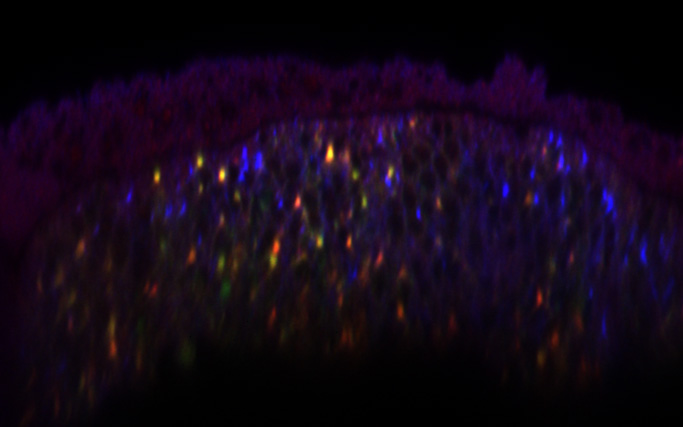 Kontakt
Professor Olaf Nielsen
Functional Genomics
Ole Maaløes Vej 5
2200 Copenhagen N
onigen@bio.ku.dk
Phone: +45 26 41 06 66

Associate Professor
Julien Colombani
Cell and Neurobiology
Universitetsparken 15
2100 Copenhagen Ø
julien.colombani@bio.ku.dk
Mobile: +45 27 84 76 66

Communications Officer
Sidsel Kretzschmer Henriksen
Department of Biology
sidsel.henriksen@bio.ku.dk
Phone: +45 35 33 41 47