About the Department
The Department of Biology forms a part of the Faculty of Science at the University of Copenhagen. The department carries out research and offer courses at bachelor, masters and PhD level.

The Department of Biology is the largest institute at the Faculty of Science. At present the staff includes more than 400 employees - almost distributed equally between researchers and technical/administrative postitions. The study programme attracts more than 1800 students.
At the Department of Biology research and teaching is carried out within a wide range of biological areas. These include:
Aquatic biology
Biodiversity
Bioinformatics
Biochemistry
Biology
Biotechnology
Cell biology
Conservation biology
Ecology
Endocrinology
Evolution biology

Genetics
Genome research
Microbiology
Molecular biology
Molecular biomedicine
Molecular neurobiology
Neurobiology
Physiology
Plant physiology
Population biology
Protein chemistry
Mission
It is the mission of the Department of Biology to be a knowledge and culture-bearing institution that creates new biological insight through excellent research. We also aim to educate highly qualified candidates through research-oriented teaching and through a strong commitment to society.
Vision
The Department's vision is that the Department of Biology is an international leader in life sciences – measured by the quality of research and candidates – and that the department is the preferred partner for research collaborators, students, current and future employees – both in the private and public sector, and among opinion leaders.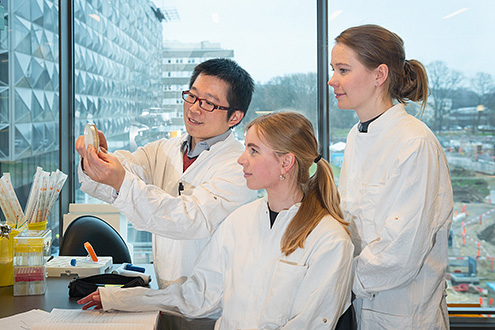 Contact info
Department of Biology
University of Copenhagen
Ole Maaløes Vej 5
DK-2200 Copenhagen N
Phone: +45 3532 3710
Email: bio@bio.ku.dk

VAT: 29 97 98 12 (EU)
VAT: 90 17 70 52 (non-EU)

EAN: See list
Strategy 2018-2023
Read the Department's strategy here.