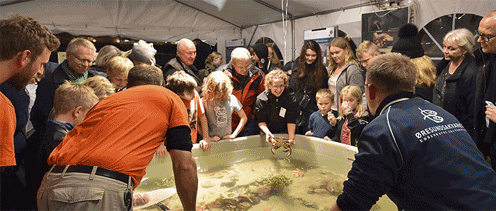 Contact
Team Leader
PR & Communication
HELLE KIRSTINE BLÆSILD
Email: helleb@bio.ku.dk
Phone  +45 35 32 20 76
Mobile +45 28 75 20 76
Outreach
The Department of Biology focuses on disseminating our research to interested students, primary and secondary school students and students, the Danish population and stakeholders.
We want to communicate our research results widely, both through the traditional media, websites and social media, but also through visitor schemes, the School Service and the Copenhagen Culture Night.
In other words, we want to create dialogue and show how much and decisively important scientific research has for our everyday lives.
The Department of Biology has a number of activities for high school students and teachers.
We offer laboratory exercises in the Biocenter's state-of-the-art laboratories. We have three separate exercises in protein purification and enzyme kinetics (BIOlink), all of which are on the topic of antibiotic resistance. If you want to try out forces with pipettes and spectrophotometers book a visit.
In November each year, we offer student internships for high school students. If you consider taking a science education, come and see the matter, try biological and biochemical techniques - and follow the teaching at the Department.
At the beginning of the year, the Faculty of Science will hold a day for high school teachers with lectures on the latest research and workshops. See the programme for the next High School Teachers Day.
On Wednesday in week 9 the Department of Biology invites to the annual Open House event for potential students. Come hear more about the structure of the programs and study life at our Department.
The Department of Biology participates in the Culture Night in Copenhagen in week 41. More info will soon be added here.
The Øresund Aquarium – located close to the Øresund in Helsingør – is a saltwater aquarium and an University of Copenhagen knowledge and educational center of the marine environment with experiences and inspiration for everyone!
A visit to the aquarium gives you an insight into the fantastic and often unknown world that unfolds on the bottom of the Danish seas and fjords.
Read more at the Aquarium home page.