Interactions between soil microorganisms and plants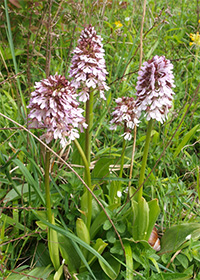 We examine the relationship between specific soil microbial communities and plant growth; we are interested in both natural plant communities and crop plants. Wild orchids are often considered important indicators of valuable nature; thus all orchid-species are protected in Denmark. Orchids are often found in valuable natural habitats, for example, on "Høje Møn" and in "Allindelille Fredsskov". At locations where orchids occur, their distribution is frequently patchy; moreover orchids often pop up in "weird" places such as e.g. garden lawns. This suggests that very specific conditions govern their occurrence. Important factors that determine their distribution are likely both abiotic (pH, lime content, humidity, etc.) and biotic i.e. specific soil-organisms. Most important are probably the fungi that the orchids parasitize "orchid mycorrhiza".
OPtimization of microbial consortia for RICE culturING with a genetic algorithm
The increasing world population implies an increasing need for crop plants; albeit with less use of pesticides and fertilizers. Part of the solution to this challenge is to optimize microorganisms in the plant root vicinity to maximally support plant growth. This is, however, difficult on a larger scale, since organisms artificially amended to soil often die. In this project we take a step further; we aim at optimizing microbial communities using a genetic algorithm based on the principles of natural selection. Thus, we focus on the function of the complex microbial communities instead of individual organisms. Therefore, the engineered microbial consortia become more efficient, and the organisms will co-function better. We focus on rice plants. Our success criterion is microbial consortia that yield maximum plant growth and suppress pathogens. Further, the validation of the communities includes molecular analysis. Ultimately the communities will be tested under field conditions in China.
The project is funded by Independent Research Fund Denmark - Project ID: DFF - 4002-00274.
Contact
Associate Professor
Flemming Ekelund
Terrestrial Ecology Section
Universitetsparken 15
DK-2100 Copenhagen Ø
fekelund@bio.ku.dk
Phone:  +45 51 82 70 41
Mobile: +45 22 43 63 01
Student projects
Contact Flemming Ekelund for more information on BSc, MSc and PhD student projects under this research project.